Cradlepoint Configuration
This article describes installation and configuration steps for Cradlepoint access point

Configuring Cradlepoint with your Start Hotspot account - step by step instructions
Connecting
Please reset Cradlepoint access point to factory settings to avoid problems with some previous configuration.
Connect your computer using LAN cable from the Ethernet port on your Laptop / PC to the PoE In port on the access point.
Set static IP address in
Open a web browser and enter IP address 192.168.0.10.
Use default provided on the back of your access point model. range.
From Main menu go to Network Settings and from drop down menu choose .

Scroll down to Local Network Interfaces and check the box next to the SSID you want to configure and click on button.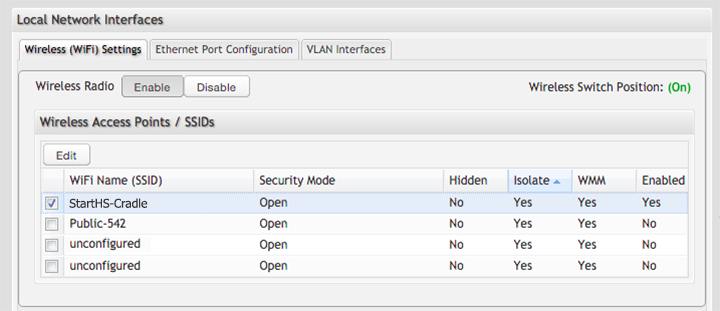 Rename the SSID and set the Security Mode as Open.
Save this setting by clicking on .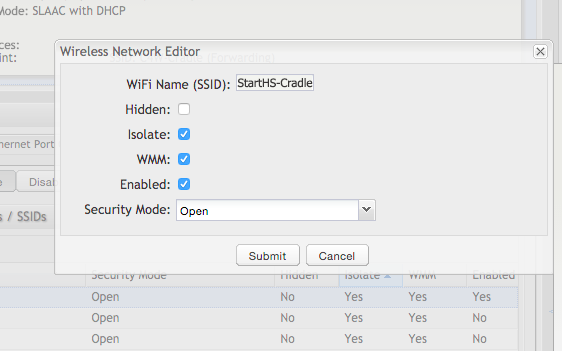 From Local IP Networks, check the object to configure and click the
This will open the Local Network Editor.
From General Settings section set network Name for easy identification. button.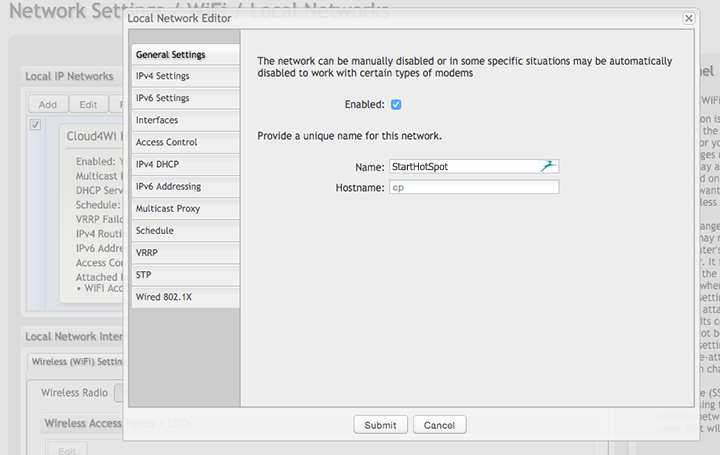 From IPv4 Settings section set the IP address and Netmask for your network and from drop-down IPv4 Routing Mode select.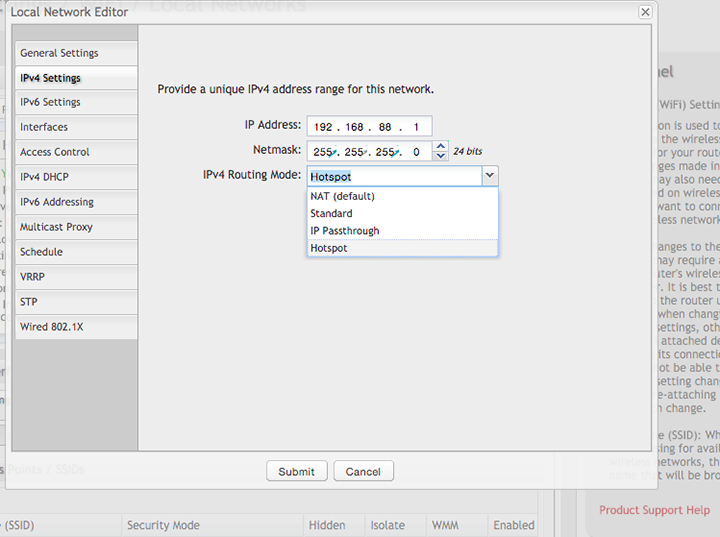 From Interfaces section add the SSID which you created earlier as available for Hotspot mode.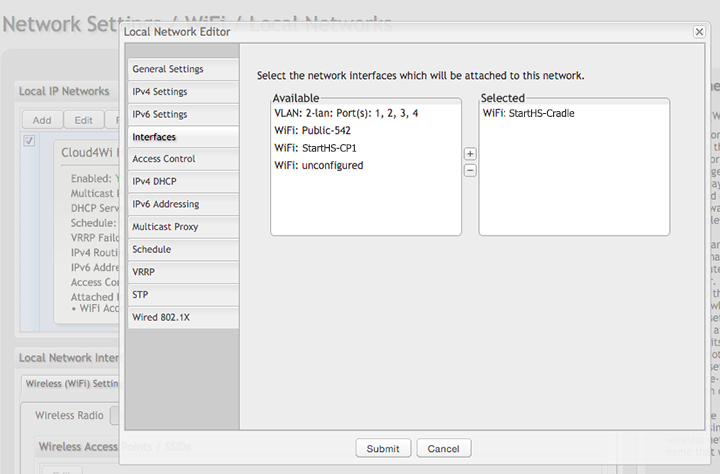 You can make other changes as needed for your network and then click to Save all these settings.
Next step is configuration of Cradlepoint access point hotspot service for redirection to the StartHotSpot.com portal.
From Main menu go to System Settings and from drop down menu choose .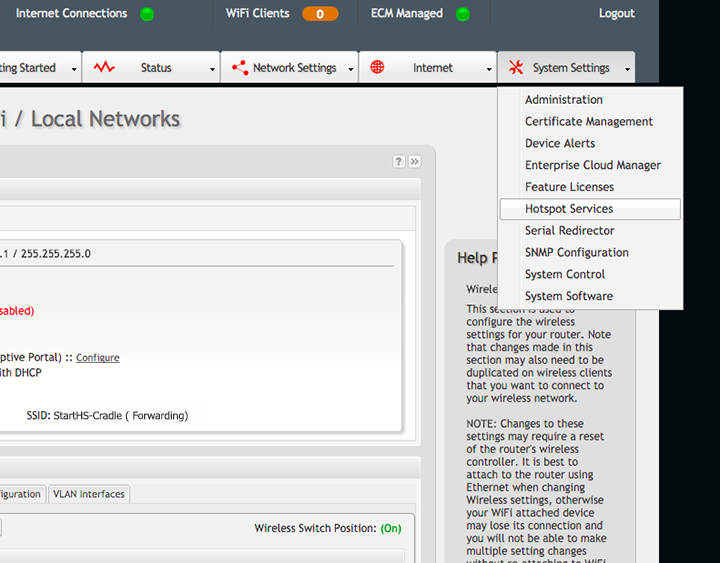 Please enter following values:
Hotspot Mode: RADIUS/UAM
Local IP Network: Select network Interface set from General Settings
Sever Address 1: 13.92.228.228
Sever Address 2: 13.90.247.200
Authentication Port: 1812
Accounting Port:: 1813
Timeout: 3000
Secret: secret
Redirection On Successfull Authentication: To the UAM server
Login URL: https://connect.starthotspot.com/login
The NAS ID should match the value entered as Identifier in the Admin Panel.

Click to save these settings.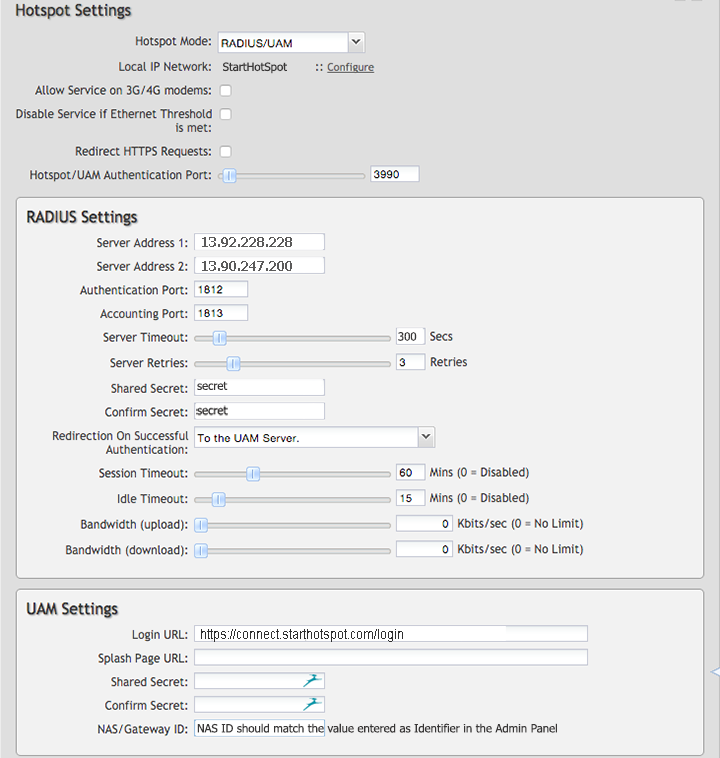 Scroll down to Allowed hosts/domains prior to Authentication and enter the domain names as required.
Cradlepoint supports " *.domain.com" format for walled garden.
Add the following one by one
*.starthotspot.com
www.starthotspot.com
connect.starthotspot.com
Please note that all the sites / urls that need to be whitelisted need to be added here.
For example in the case the lodge will be taking payments using paypal then the PayPal website will have to add here as well.
The hotel may also wish for their homepage to be added to this list.

NOTE: Any sites added here will be accessible without passing through the Antamedia data counters, but will still be billed by your ISP