Mikrotik Manual Configuration
This article describes installation and configuration steps for Mikrotik routers using WinBox.
Winbox is a small utility that allows administration of Mikrotik RouterOS using a fast and simple GUI. It is a native Win32 binary, but can be run on Linux and MacOS (OSX) using Wine.
Configuration applies to Mikrotik routers with RouterOS L4 and beyond.
Configuring Mikrotik router with your Start Hotspot account - step by step instructions
Connecting
Please reset Mikrotik router to factory settings to avoid problems with some previous configuration.

Connect your computer using LAN cable from the Ethernet port on your Laptop / PC to the PoE In port on the Mikrotik router.
Winbox loader can be downloaded directly from the router or from the Mikrotik download page.
When downloading from the router, open a web browser and enter router's IP address and RouterOS welcome page will be displayed.
Click on the menu item that says to download winbox.exe from MikroTik download server.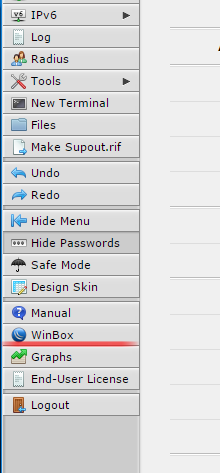 From the menu select
When winbox.exe is downloaded, double click on it and winbox loader window will pop up. and be sure that DHCP Server is enabled.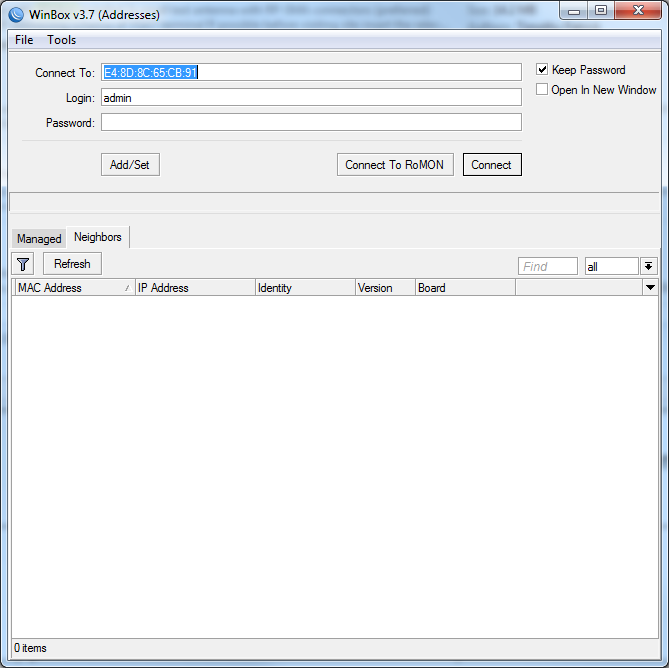 Select the tab on the WinBox application and click .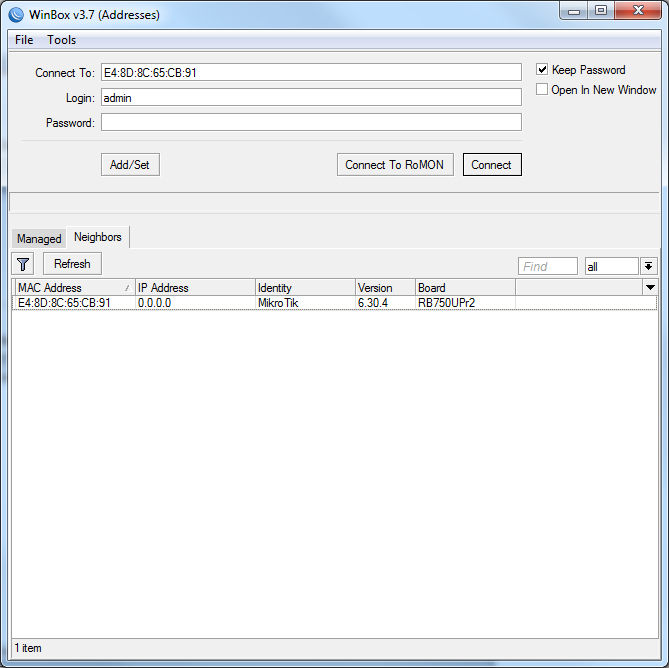 Select the router with the correct MAC Address from the Neighbors list and enter:
Username: admin
Password leave blank
Click .
Upon successful connecting, you will get following screen.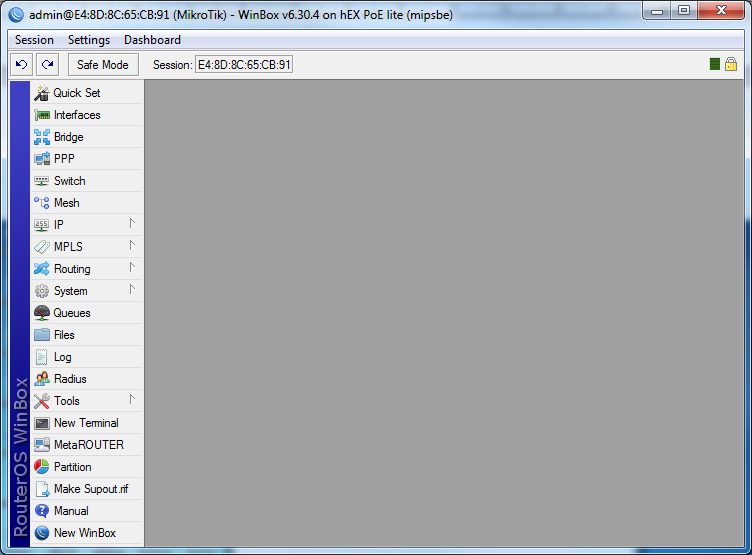 Configuring parameters
Set the Identity of the router from .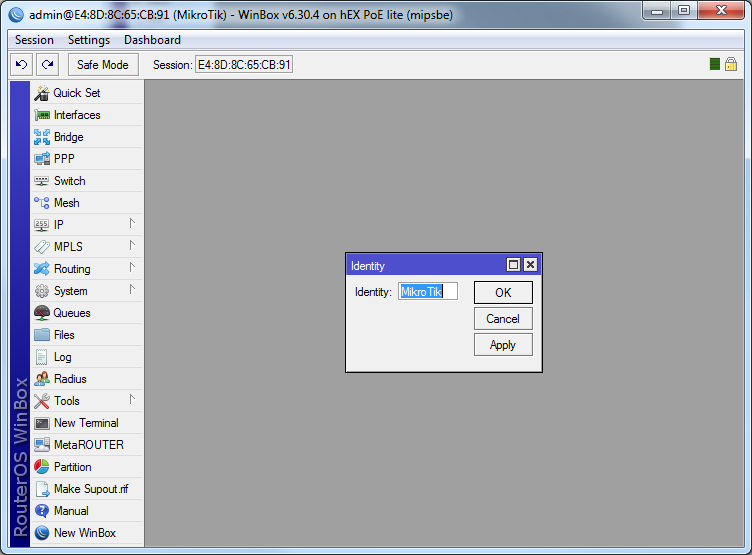 The identity will usually be the MAC address of the router.
Please note this down on a piece of paper as this will be required during the setup of cloud service.
Next step is to set Bridge on the Mikrotik router.
Click from left menu and then button.
Change the name to the desired name e.g "AptecHotelBridge" and click .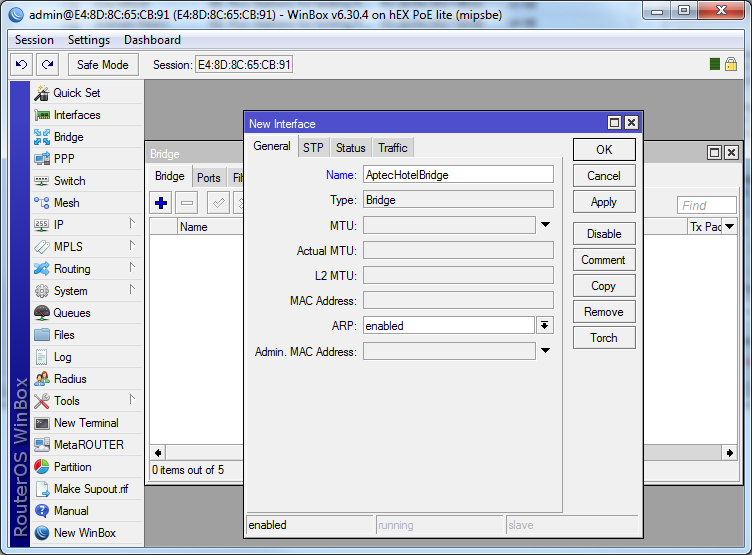 Select created Bridge from previous step.
Press Ports tab and click button.
In Interface field select and press .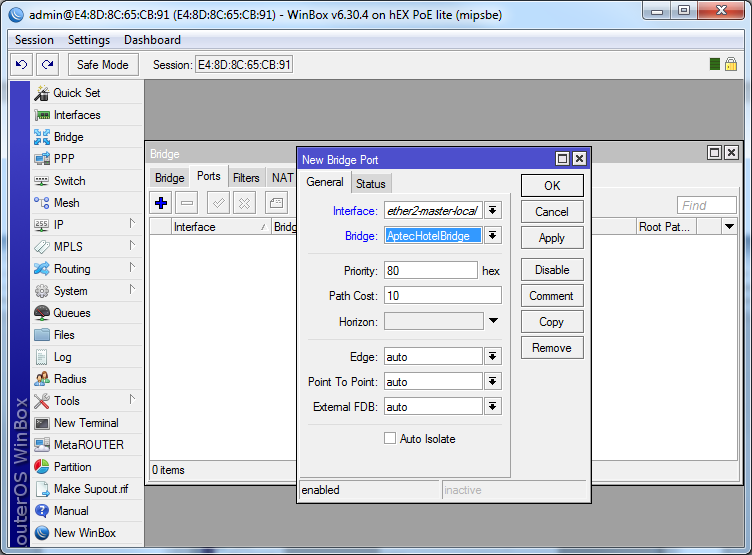 Next step is to create HotSpot.
From left menu select .
Press on HotSpot Setup button.
As select Bridge that you have created previously, in our example it is "AptecHotelBridge" and press .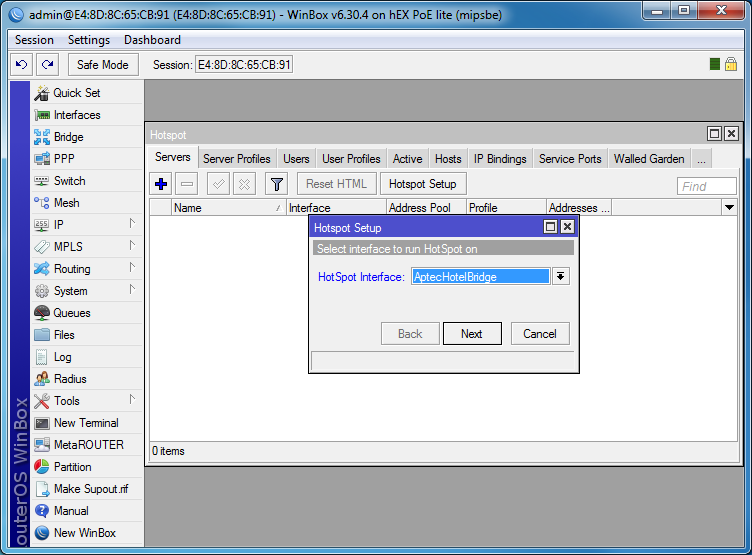 New window will give you information of HotSpot address for interface. Press button.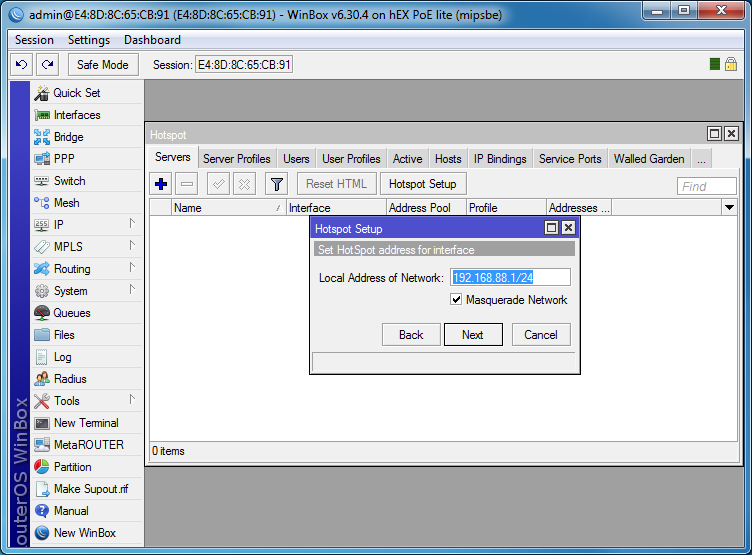 From new window select IP pool of a network or use already set default values and press button.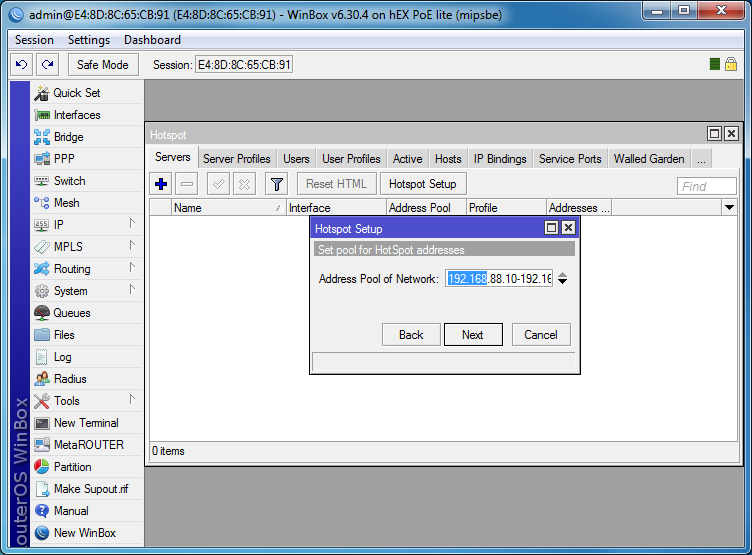 If you don't use specific SSL certificate for your HotSpot Select none and press button.
IP address of SMTP Server is set to
Press button to continue with the setup. .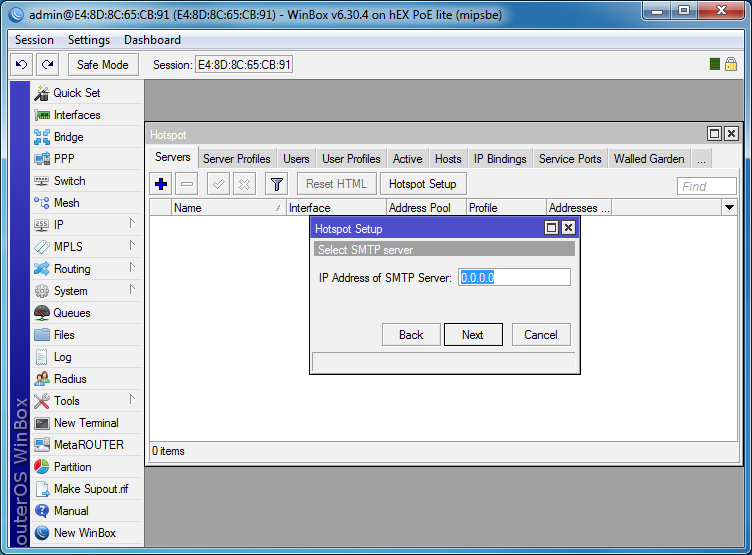 DNS configuration allow you to set DNS Name and it can be defined as below.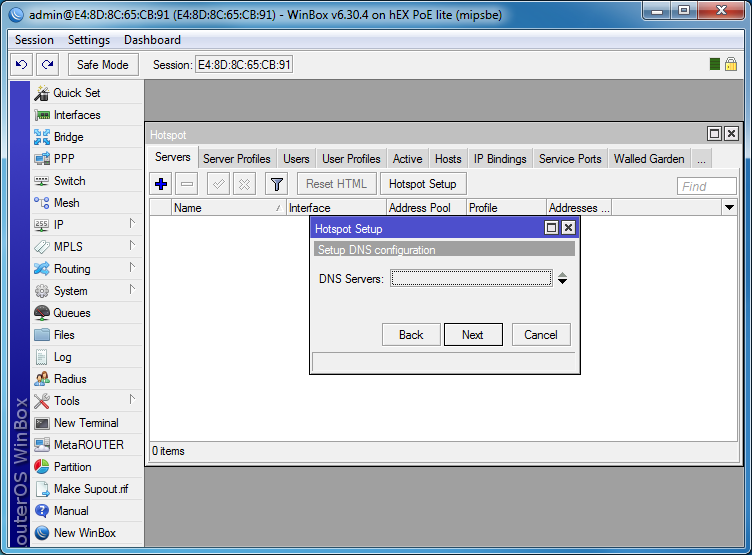 Please note that the DNS name must contain a "." in it.
For example aptechoteldns.hotel.
Press button.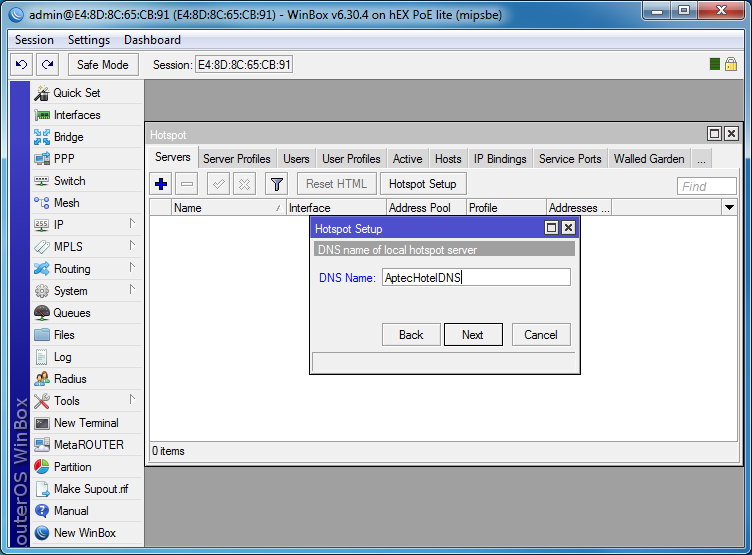 Last step in HoSpot configuration is creating local HotSpot user.
Set Username and Password as desired and click button.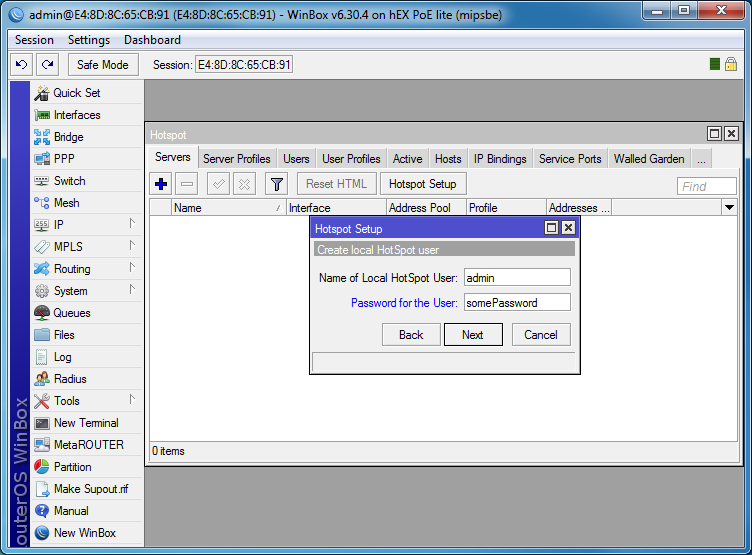 Press to confirm and complete HotSpot Setup.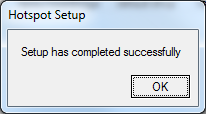 Next step is creation of Server Profile.
Press tab.
Select the Server with the DNS Name assigned in the previous step by double clicking.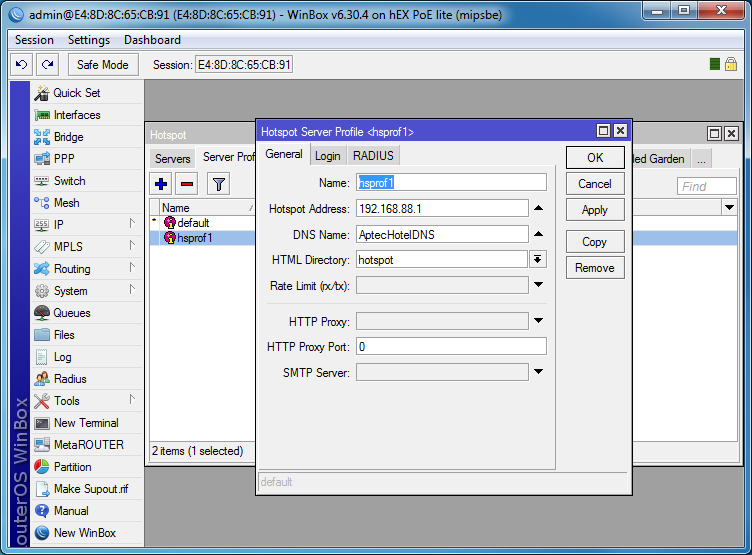 Go to Radius tab and select , and then click .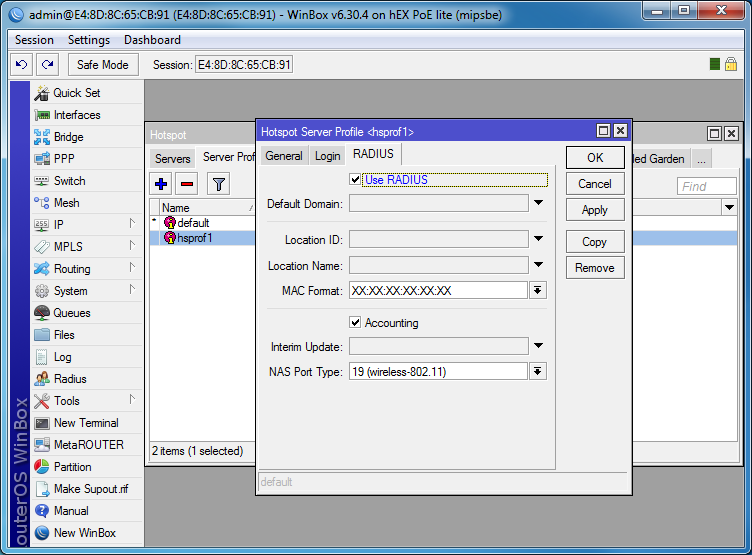 Next step is setup and configuration of Radius Server.
Select Radius from left menu and then press button.
Here you must set following:
Select hotspot option.
Address:
Secret: (it will be communicated by Start Hotspot office)
Timeout: 3000
Authentication Port: 1812
Accounting Port: 1813
Press .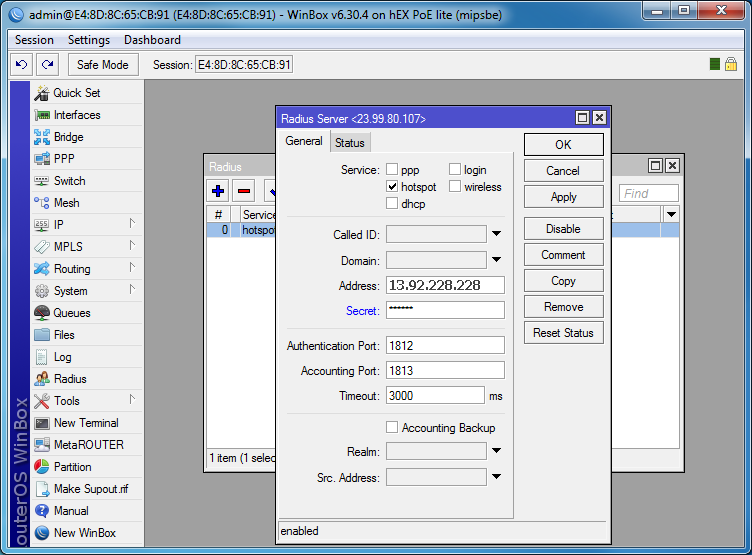 Next step is to set and configure DHCP server.
From left side menu select
DHCP client is properly set if it is configured for ether1 Interface.
In such case you don`t need to change anything.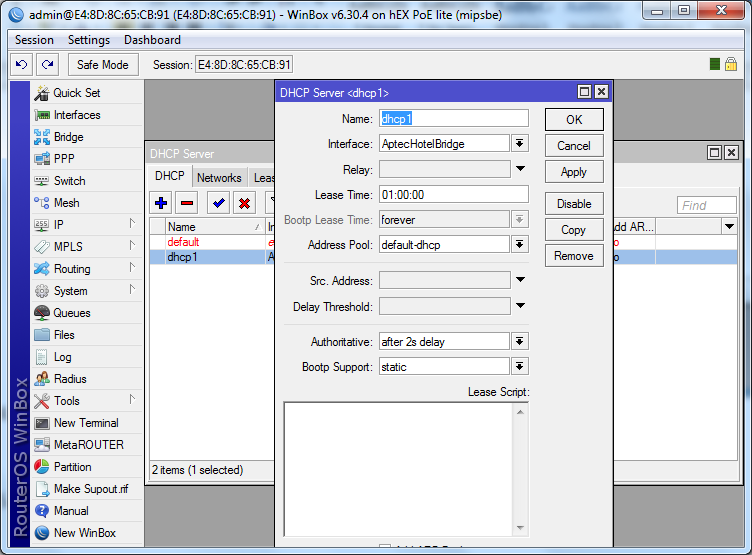 If ether1 is not selected as Interface, you should disable DHCP Server and set it from start.
DHCP client is set-up on ether1 as part of the default configuration, check that from left side menu
If DHCP client is up on ether1 then no further action is needed.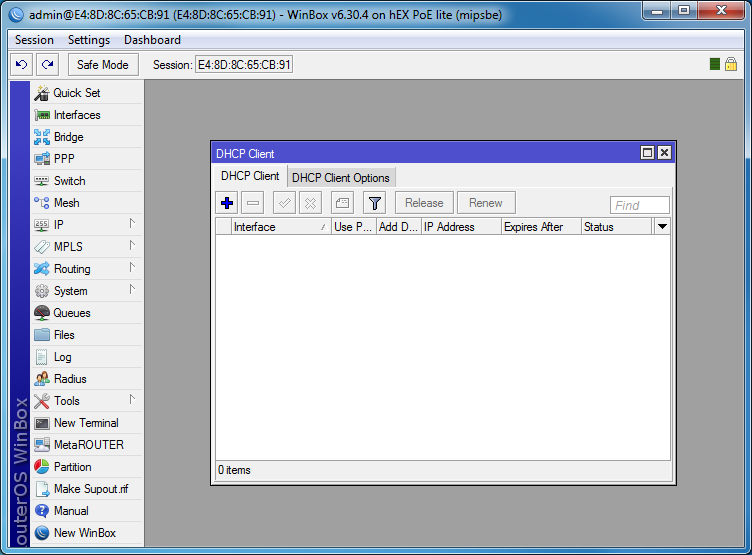 In case there is a DHCP Client existing then you can edit that, else create a new one by clicking on
Interface: Select . button.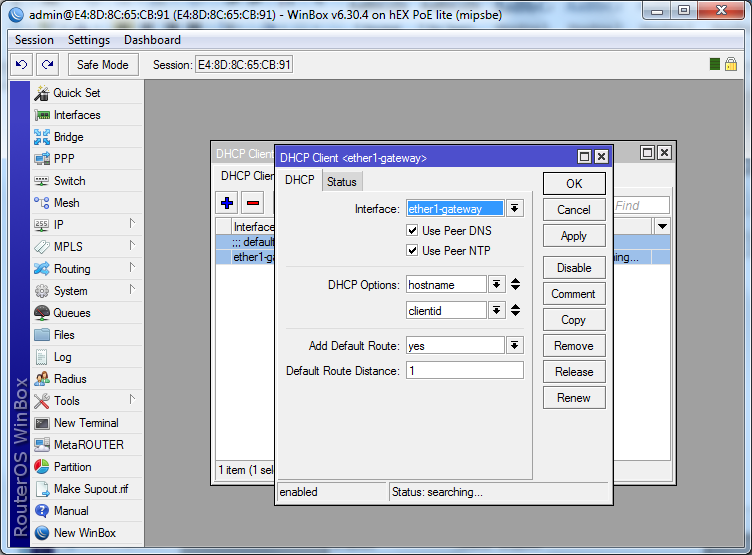 Click .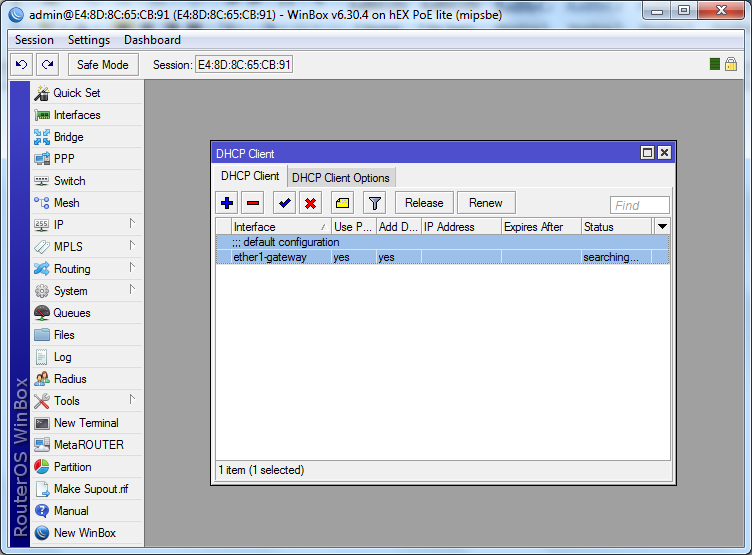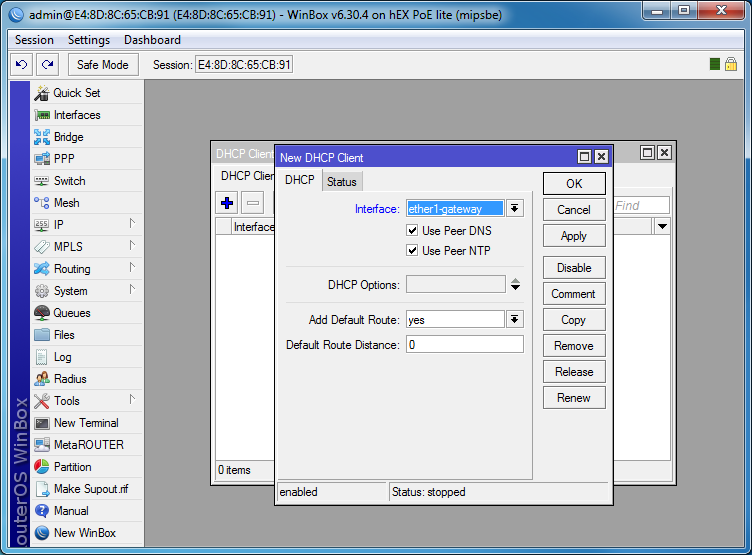 Next step is to configure "Walled Garden" for the Hotspot.
Select from the left side menu and then select the tab and add following by clicking on the button one by one.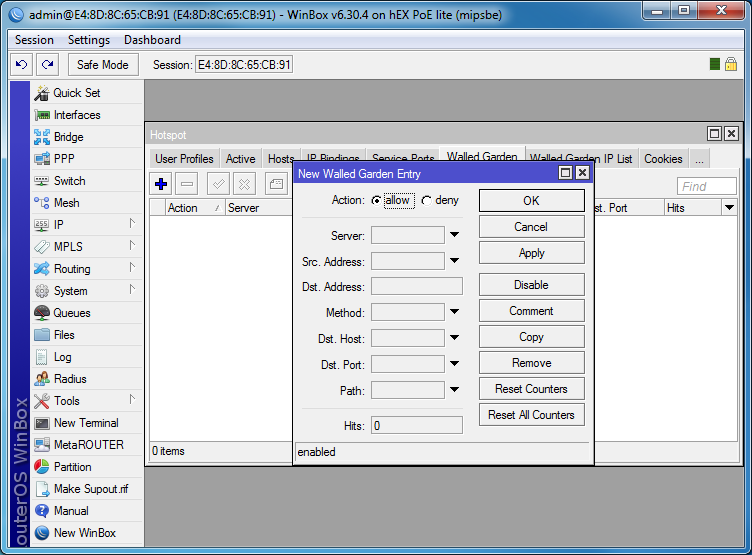 Add the following in the Dst. Host one by one:

*.starthotspot.com
www.starthotspot.com
connect.starthotspot.com

Please note that all the sites / URLs that need to be whitelisted need to be added here.
For example in the case the lodge will be taking payments using paypal then the PayPal website will have to add here as well.
The hotel may also wish for their homepage to be added to this list.
Any sites added here will be accessible without passing through the Antamedia data counters, but will still be billed by your ISP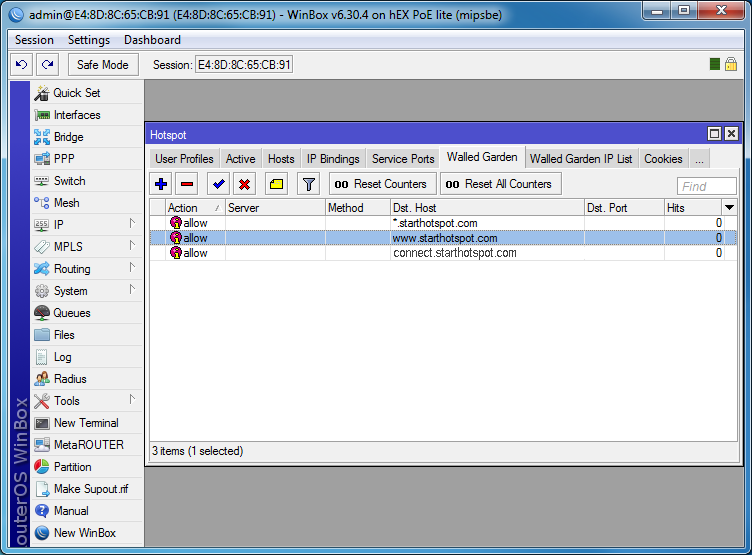 Next step is to set Login as HTTP PAP.
Select and select .
Double click the created Server Profile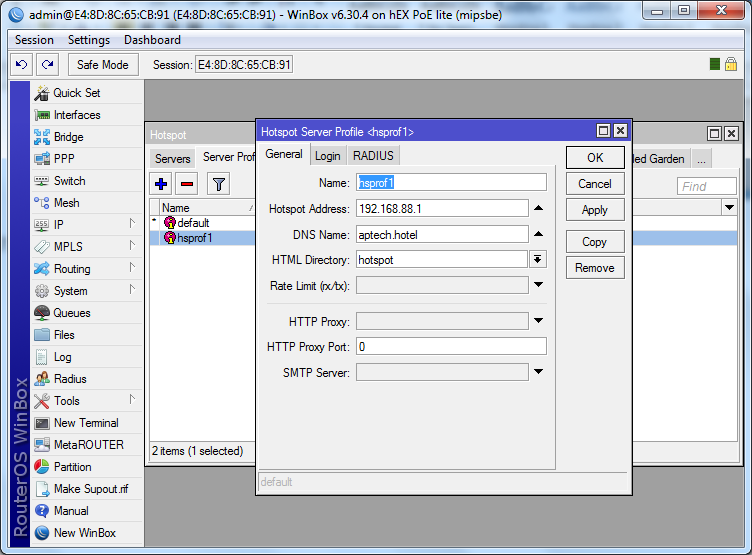 From Login tab select to use HTTP PAP and press button.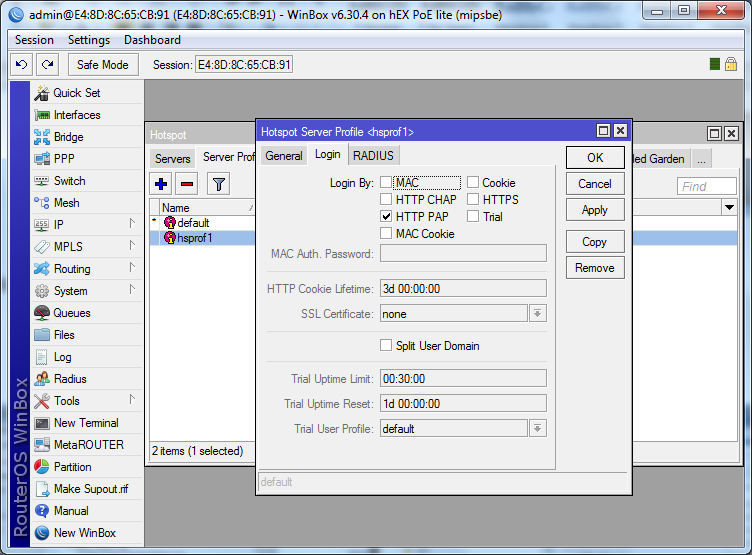 Download login.html
The last step in Mikrotik configuration over Winbox is a replacement of default login.html file.
From left menu select Files and replace the following file: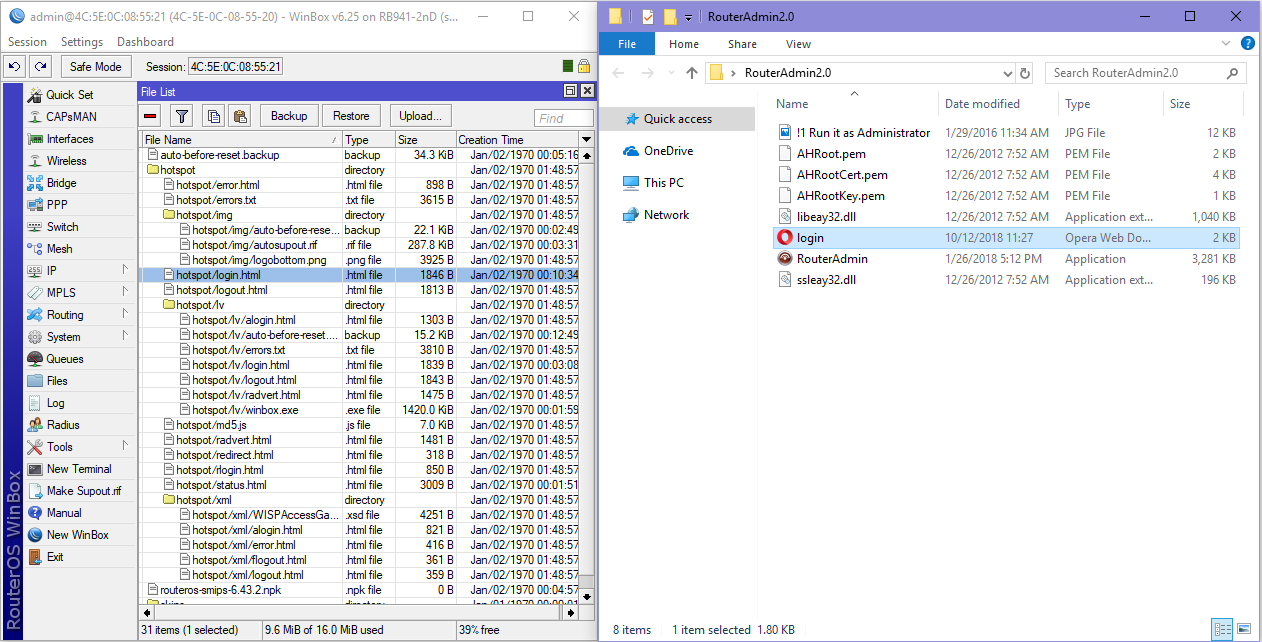 If you need help with configuration, please go to starthotspot.com and contact our tech support. We'll be glad to help you.