Ubiquiti CoovaChilli AP Configuration
This article refers to the ubnt:XS2.ar2316-coova.v3.5.1. SDK.100821.1330 firmware version.
This version is supported, since it integrates CoovaChilli RADIUS client.
Please note that this firmware is an unofficial release, since it has been made available by the Ubiquiti Networks Community and not by Ubiquiti Networks. So if you intend to install this firmware, do it at your own risk.
Configuring Ubiquiti CoovaChilli AP with your Start Hotspot account - step by step instructions
Connecting
Please access the device through the web interface.
In order to set up the access point, it is necessary to access the Services page in the web interface, and then click the link in the CoovaChilli Hotspot section.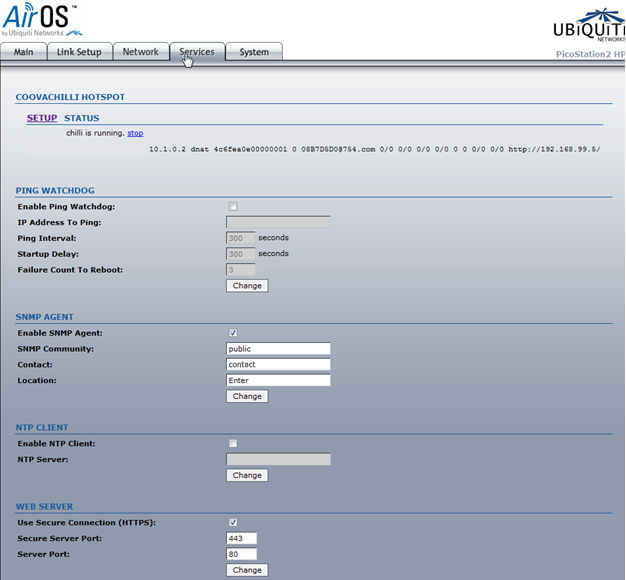 This will open the whole CoovaChilli Hotspot section.
The configuration here must be performed as shown in the following image.
Click the Change button in order to apply the new configuration.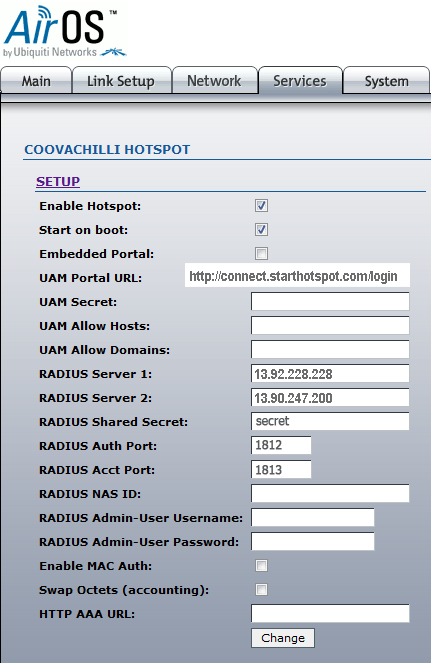 Please note that:
The RADIUS NAS ID parameter set in the device must be unique for all the access points belonging to your network.
Otherwise the access point will be not correctly integrated with the Solution.
The UAM Secret field must be set equal to the RADIUS NAS ID parameter.
The Start on boot option allows CoovaChilli service to be started on boot.
At the end, the last confirmation is needed.
Click Apply button.

If you need help with configuration, please go to starthotspot.com and contact our tech support. We'll be glad to help you.