Start your WiFi Hotspot today
Cloud WiFi software for your next-level Guest WiFi


Cloud WiFi Hotspot
Start Hotspot Cloud WiFi platform helps you build your WiFi and scale as you grow.
Connect routers, customize splash pages, limit user Internet access, engage social WiFi users, accept credit card payments, check statistics and analytic. Hosted by us, managed by you from any device.
We have developed a brand new Splash page, with an incredible look, lots of amazing features, and with 40+ new Splash templates.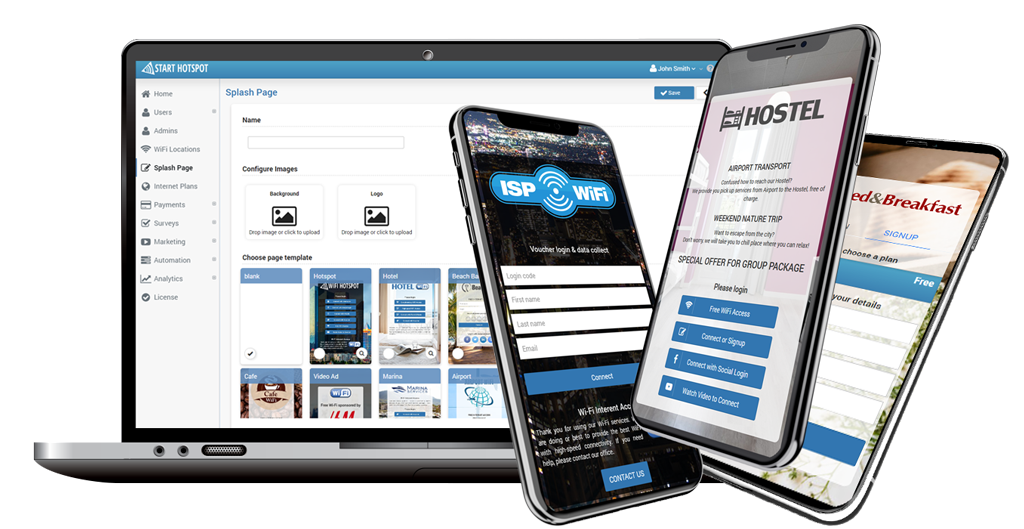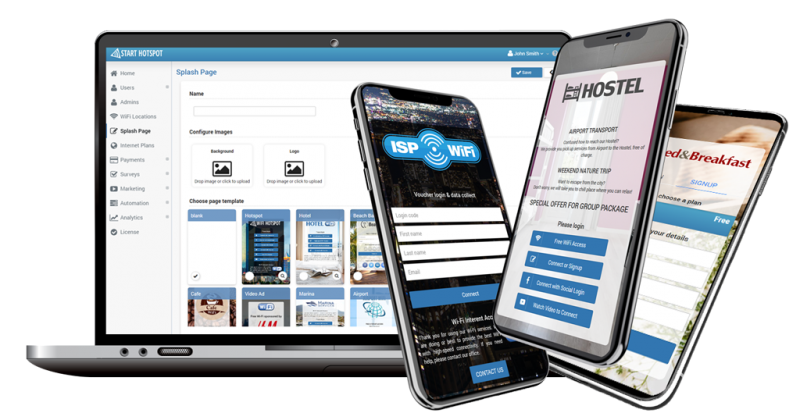 Engage WiFi users with video or image ads. Location based video ads acounts for the best engagement motivators with high conversion rate.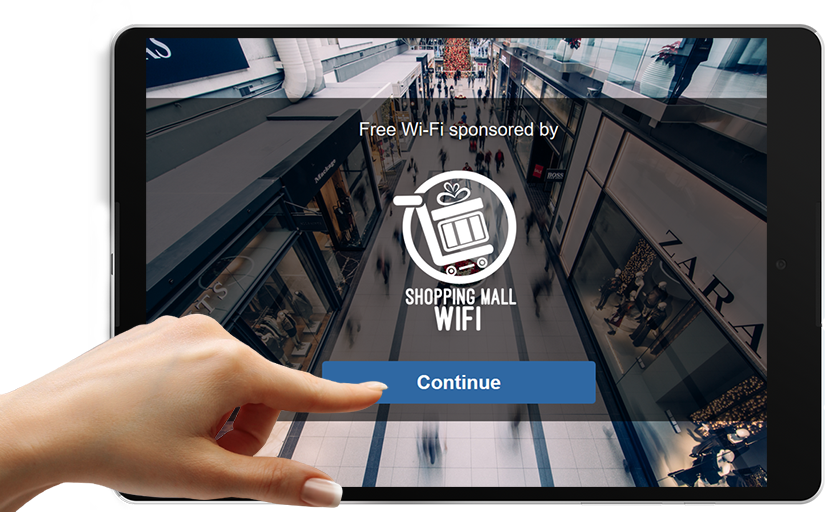 Customer survey is a great tool for collecting guest data, opinions and reviews, which can be used for marketing purposes and improving your service.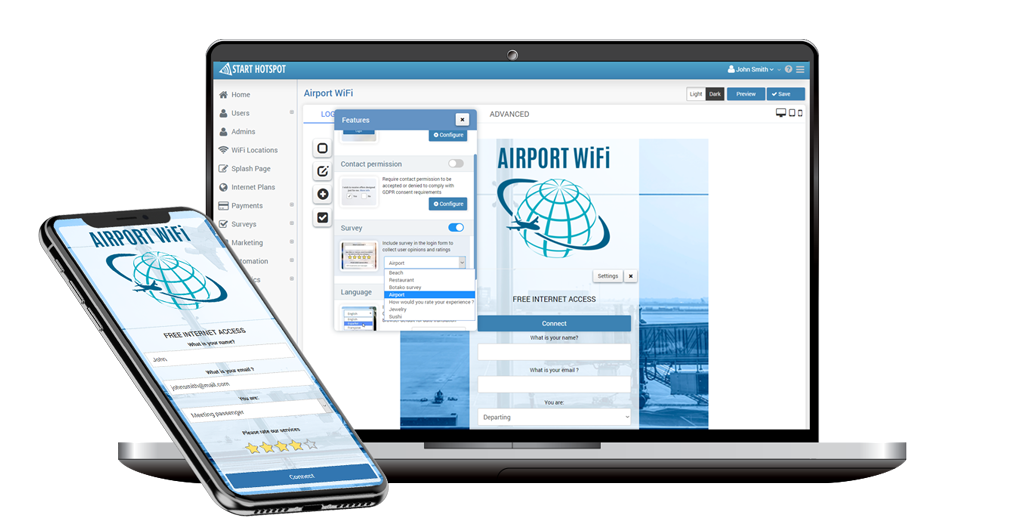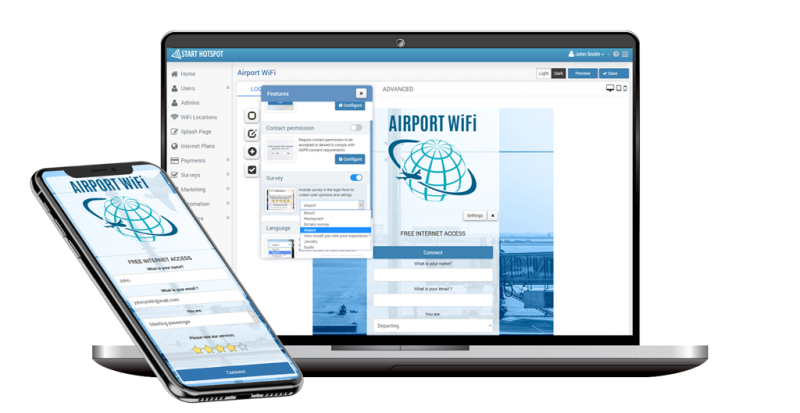 Email campaigns helps you send informational and marketing emails to your customers. Send fully-featured Email campaigns that target customers by age, gender and interest.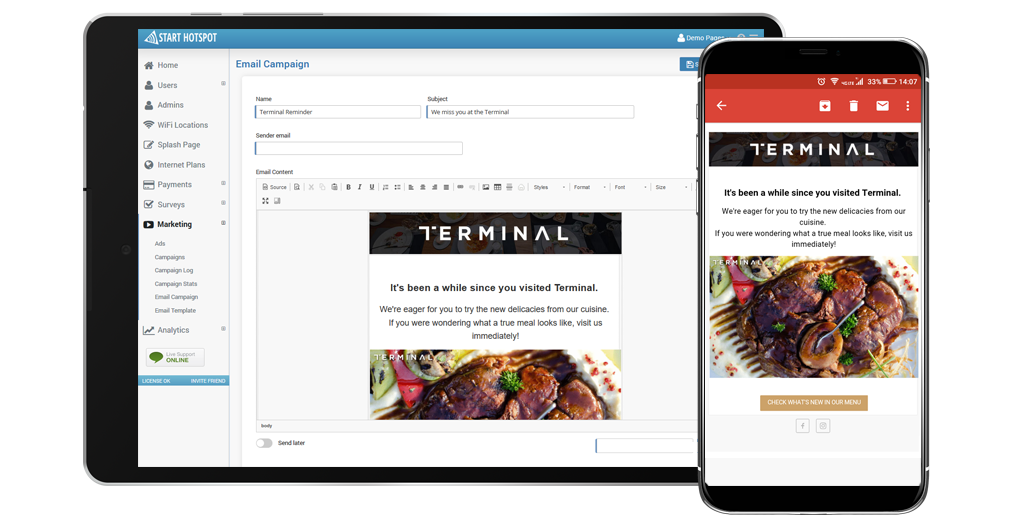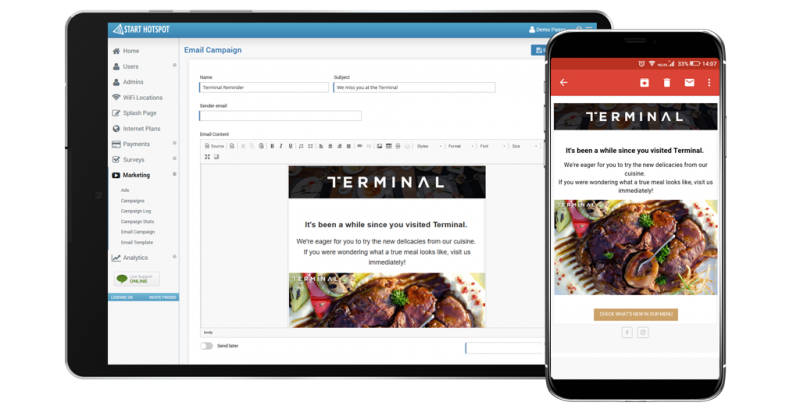 Social network WiFI access is the quick and easy way tp collect emails and names of your customers and use it for marketing campaigns.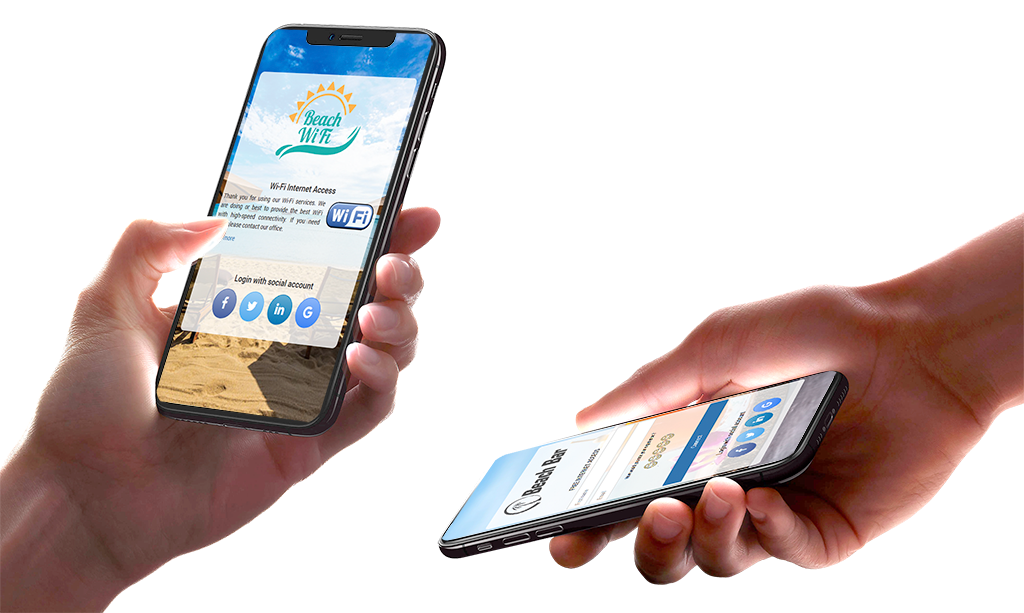 During signup, guest can choose an Internet plan which can be free or paid. Free complimentary access comes with lower download and upload speeds.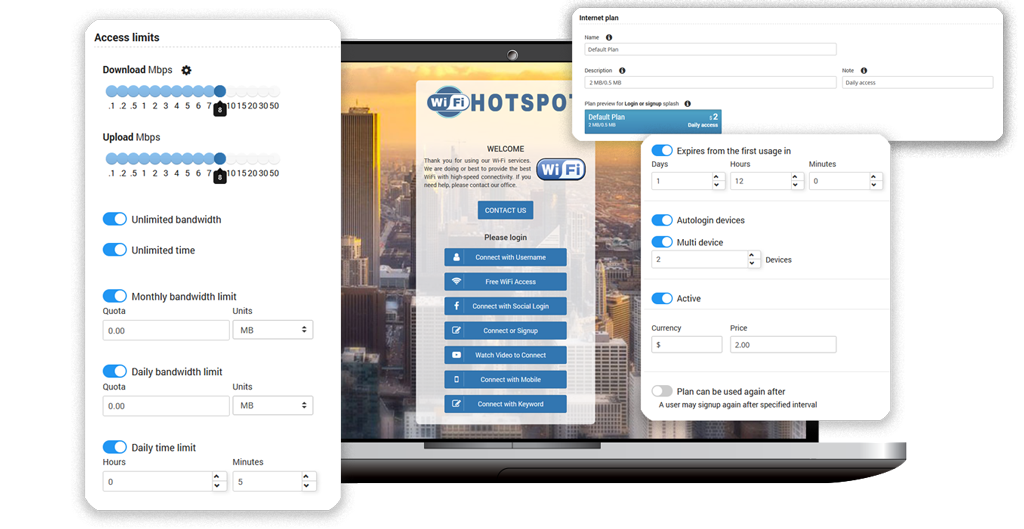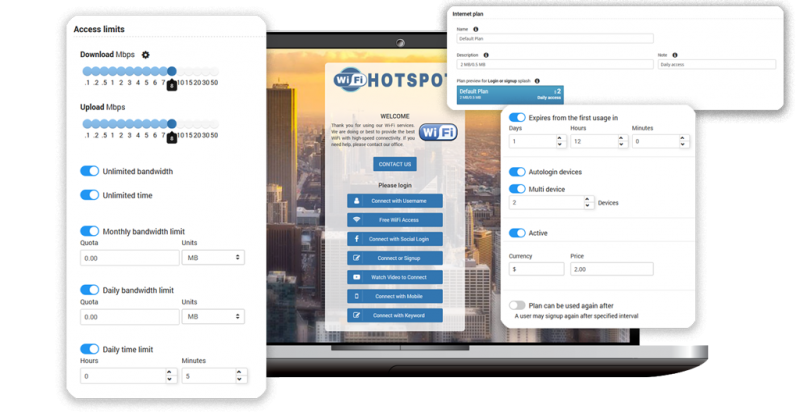 Instant Notification System
Use your Splash / Welcome page as a message board and display Covid-19 notifications or relevant information.
In order to deter and prevent the spread of the Covid19 pandemic you can collect the contact details of your guests before they connect to the WiFi location. You can notify them of the city guidelines and regulations while reminding them to maintain social distancing.
Monitor users at a certain time, through names and phone numbers. When necessary or requested by authorities, all data can be easily exported to monitor nearby people, which greatly facilitates the process of combating the COVID-19 pandemic.
Contact information are collected in compliance with global data & privacy regulations GDPR.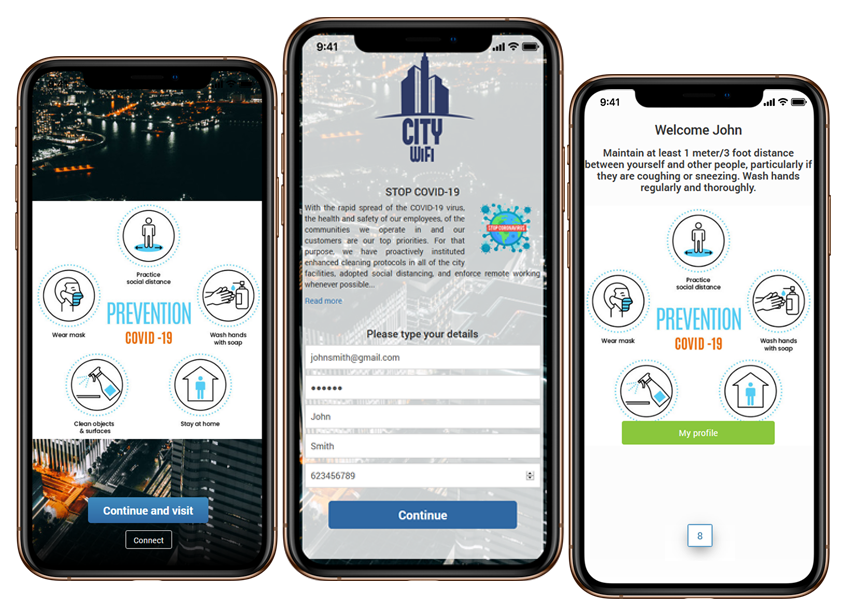 WiFi Marketing
Lift your user experience to the next level using an innovative WiFi marketing approach!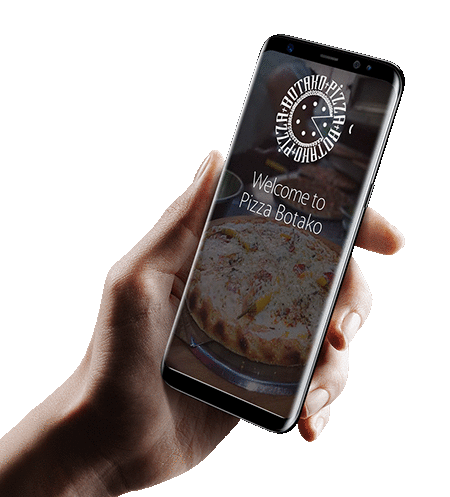 Send targeted Email campaigns

Promote brands and monetize by offering Video ads for access

Put a latest promotion or display coupon to be redeemed at retail store

Offer discounts and invite guests to complete survey or just get more info

Advertise and engage prospective customers with the right promotional message
Brand New Themes for Your WiFi HotSpot
Easily create a Splash page using new templates and configure how will your guests start an Internet session.
Customize your Splash pages with your own brand, logo and background image with easy-to-use page editor.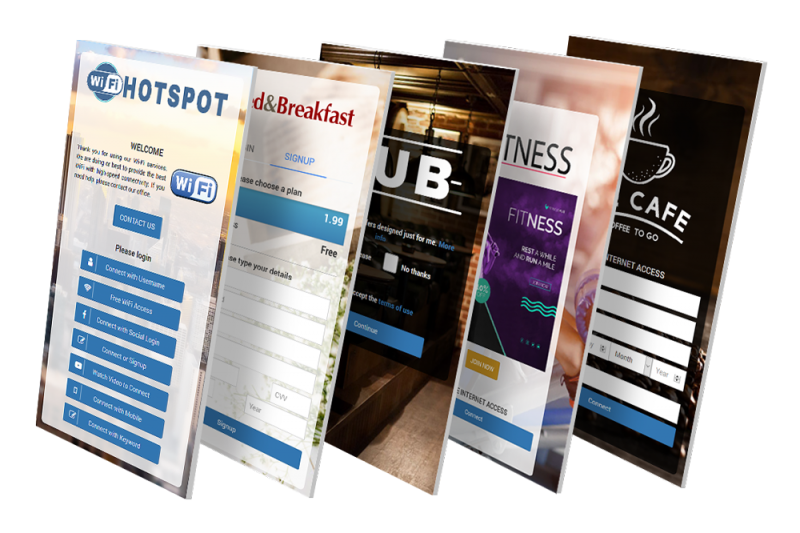 Splash Page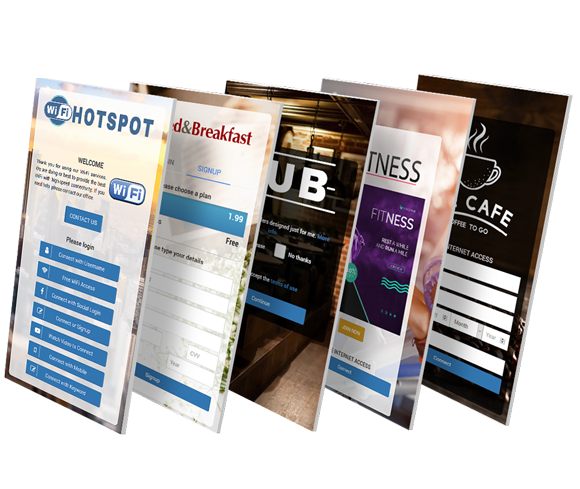 Combine any type of login form or set all of them on the Splash page, choose Splash page layout, set Dark mode…
Facebook Like and Share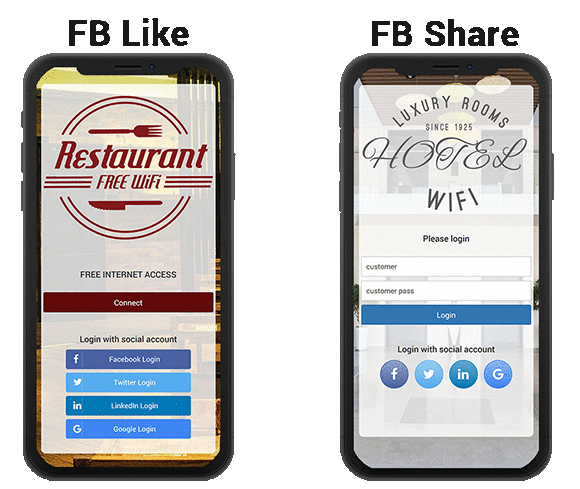 Ask visitors to like or share your Facebook page before connecting to your WiFi network.
Welcome page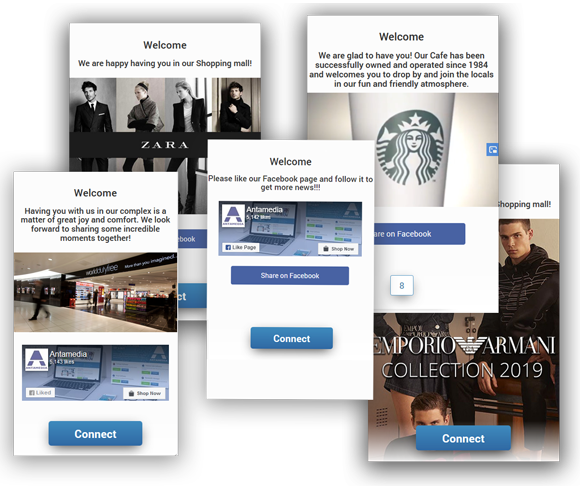 Redirect users to the Welcome page and greet them with a welcome message or show video or image ad.
Start Hotspot Help & Support Center
Expanding on the capabilities of the current Start Hotspot website, the Help & Support Center will improve the service we offer to our clients.
Signup for a zero-risk free trial
Brief info how to signup and get started with your new cloud WiFi Hotspot platform.
Sign Up for a free trial and test the easiest cloud WiFi Hotspot solution.
Easy to setup & use
Auto-setup router app, help guides for most hardware. Our tech is standing by to assist remotely.
Powerful WiFi features
Build any kind of WiFi – Free, social, monetizing, engaging, video ads, auto emails. Encourage customers to return.
Cloud or on-premise
Use our cloud platform or your on-premise server. Subscription or one-time fee. You choose.
Get started for free today!
Need help to get started?