Your company name, logo and contact details instead of Start Hotspot
Your company name, logo and contact details instead of Start Hotspot


If you would like to customize Start Hotspot portal dashboard and Splash page with your own brand  and manage the end user experience, White Label branding is a perfect solution.
Set any price to your end customers, as it will never be compared to other Start Hotspot prices.
Send customers to a unqiue domain to login to their portal, create users, login codes, refills and view analytics.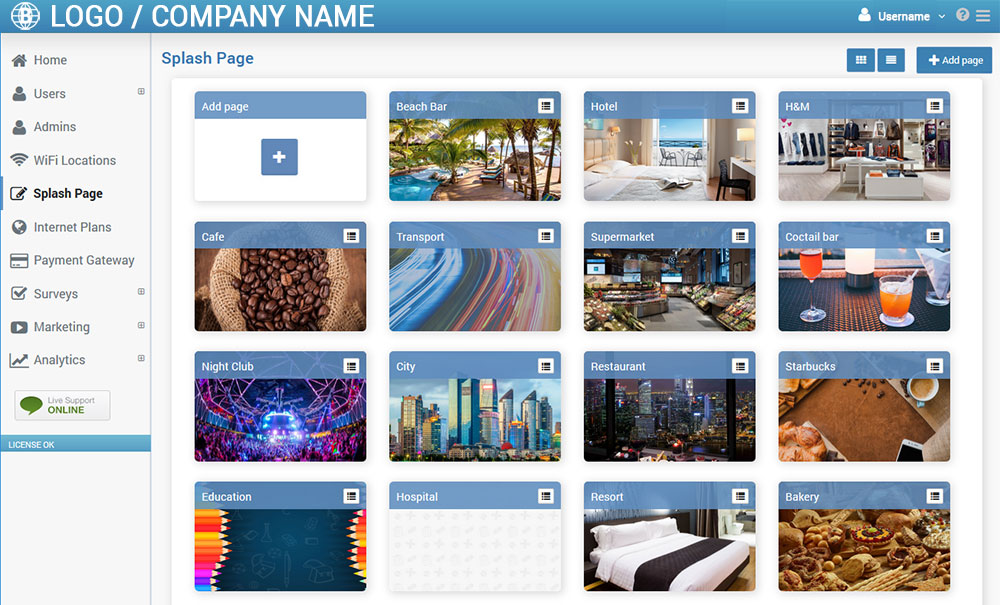 Special time-limited offer
Order yearly subscription for 10 APs and get White-label branding free of charge
Rebrand the software with your company details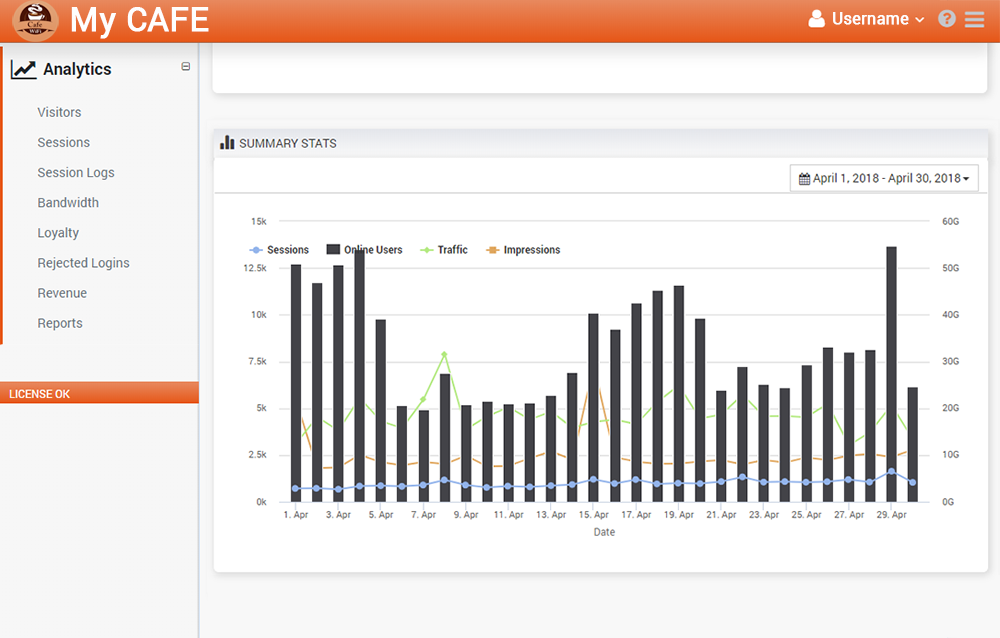 With White Label branding you can manage the user experience and rebrand the software with your company details.
Replace the Start Hotstpot brand from the splash page and portal URLs and hide it from end customers and WiFi clients.
You wil get your own portal dashboard tailored for you and customized with your company brand logo, color scheme etc…
With your own logo, company name and color, Start Hotstpot Cloud WiFi software will appear as your own software to the end customers and WiFi clients.
Rebrand WiFi software:
-Your logo
-Your domain
-Your contact details
Manage customers interactions with your own brand, logo, company name and domains
When your guests connect to the WiFi network, they will be redirected to your domain and nicely designed splash page will appear on their device.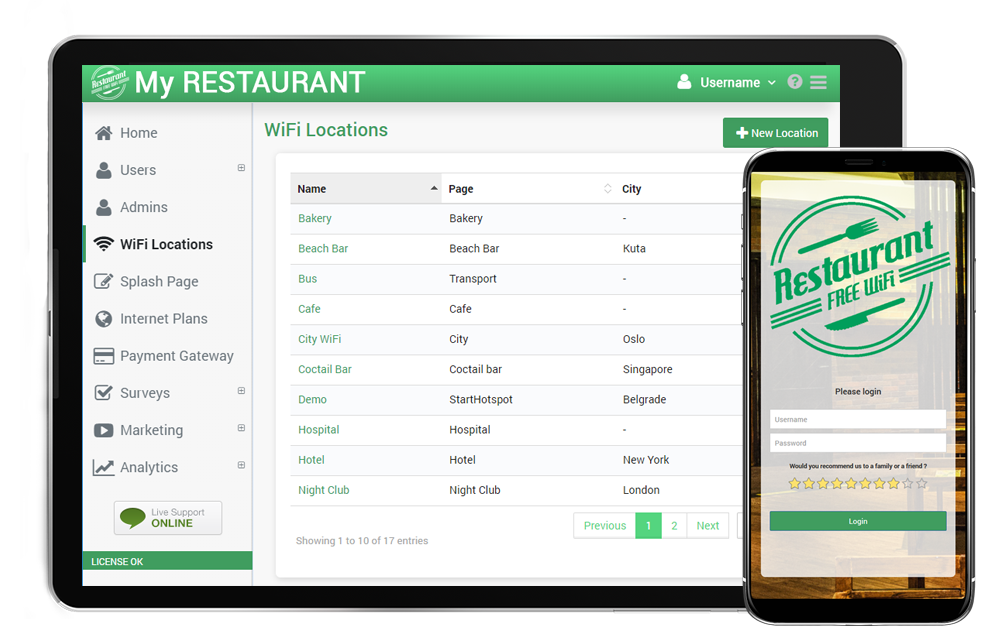 White Label branding allows you to:
Change URL of the Splash Page

Change URL of the Start Hotstpot portal

Change logo and background color of the Start Hotstpot portal

Get firmware for your domain

Send emails and campaigns from your email server
Absolute the best Hotspot Wi-Fi experience for
Authenticate users through secure connection

Use Secure connection to switch to secure login.
Instead of standard login page, customer can go to, for example,  https://hotspot.yourbusiness.com and authenticate through a secure connection.
SSL certificate allows you to show your domain in a customer browser instead of the default Start Hotspot URL.
WiFi Tickets App
WiFi Tickets App helps you print tickets for your guests, visitors, and users to connect to your WiFi network.
Easily create multiple tickets in one go or reprint the last ticket if you are providing multi-device or family access.
Hotels and airports may easily scan passport and create a ticket.
WiFi Tickets App is available for selected Android printers and Android phones.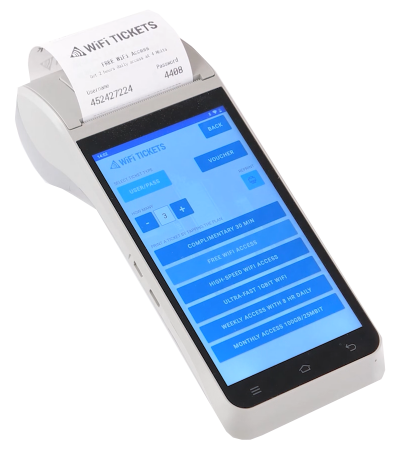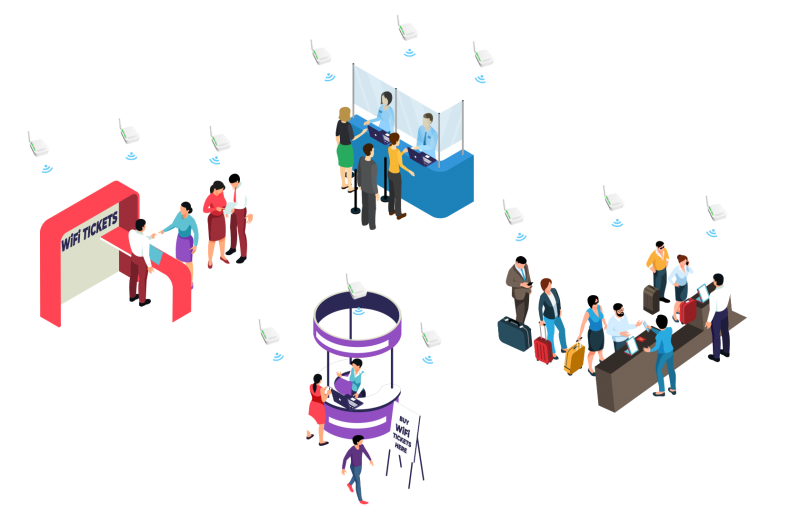 Increase profits by recruiting resellers and make them sale partners for your Internet service.
Every reseller becomes a sales point and provides WiFi tickets to nearby customers.
Resellers are credited for the reseller percent which you can customize for each reseller.
You will be able to monitor resellers activity directly from your Enterprise System web portal.
OUR CUSTOMERS